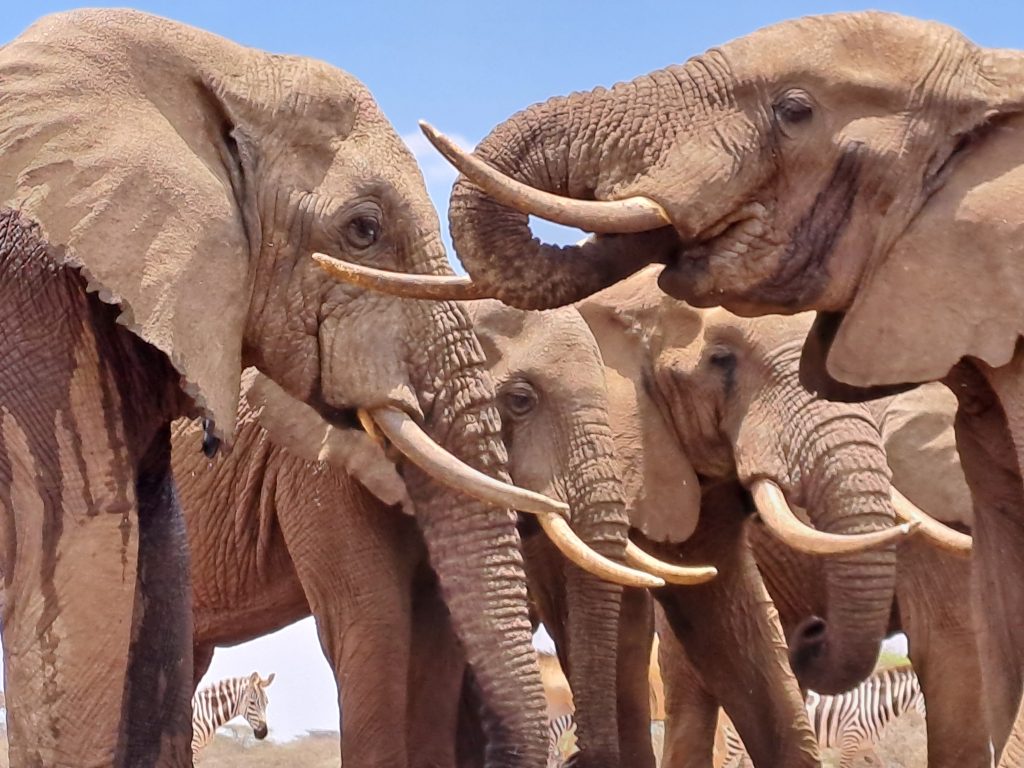 Sandra, in her mid-thirties, works as a manager at a game reserve in Kenya. Tourists come here from all over the world to go on safaris to see the many African animals that live in the area. As a Kenyan with German roots, Sandra is able to respond ideally to the different guests with German, English and Spanish. In a phone call she told me about her employer "Zebra Hills" (name changed) and answered questions about the ecological and social sustainability of safaris.
Safaris date back to the time of colonialism. Back then, the goal was to shoot trophies – preferably all the Big Five, a lion, elephant, leopard, buffalo and a rhino. Today, trophy hunting is banned in many African countries, including Kenya. In some countries it is still allowed, for example in Namibia, Zimbabwe, Zambia, Mozambique, Tanzania and South Africa. However, most tourists today prefer to take photos of the animals. This is possible in open national parks, where you can drive yourself or in private game reserves, where guided tours with jeeps or even on foot take place.
The government has allocated different sections of land to the various tribes of Kenya, Sandra explains to me. "Zebra Hills" is located on the land of the Maasai, who also cultivate areas of the game reserve with cattle and fields. From the 330,000 acres of the area, 600 acres are set aside for wildlife only. The remaining area is used by humans and is accessible by jeeps. The Game Reserve is the largest in Kenya. The sponsor is a South African company that does a lot for the conservation of flora and fauna in Africa. This is not only good for nature, but also for the company, because a thriving landscape and biodiversity attract tourists to the country, which generates income.
Each guest pays the Game Reserve a Conservation Fee, which goes to the region, as well as a levy for the Group Ranch where the employees live. 57% of the locals in the area are employed by the Game Reserve. People are only hired from outside if skilled workers cannot be found among the locals. In addition, three-month internships are available in all departments, from the kitchen and stores to housekeeping and guest services.
The Game Reserve is financed by large investors in addition to tourists. The money flows into conservation, i.e. the preservation of the park, but also into charity work. For example, "Zebra Hills" pays the salary of 24 teachers from the schools in the area. There is also a tree planting initiative. The Game Reserve responds to deficiencies, such as when locals lack water, food or the like, by providing support. This concept of company and foundation is widespread, according to Sandra.
The offer is very well received by tourists. In general, environmentally conscious travel is a trend in Kenya, she says. While cheap but reckless safari package tours were booked in the 80s and 90s, the demand slowly decreased in the 2000s. Tourists today no longer want to be sequestered in a four-season hotel complex. They want to book a trip that has a positive impact on the destination. They often planned the safari trip years in advance and tried to make conscious decisions in consultation with their travel agent. Sandra points out that this is, of course, also a form of luxury travel, booking a safari that allows for a clear conscience. As a game reserve, you have to meet that demand to be visited.
In summary: Sandra works in an ecologically and socially sustainable game reserve. However, there are still many black sheep among the providers – especially in other African countries, where partly trophy hunting is legal. In the next section, we will explore to what extent a safari can be considered slow travel.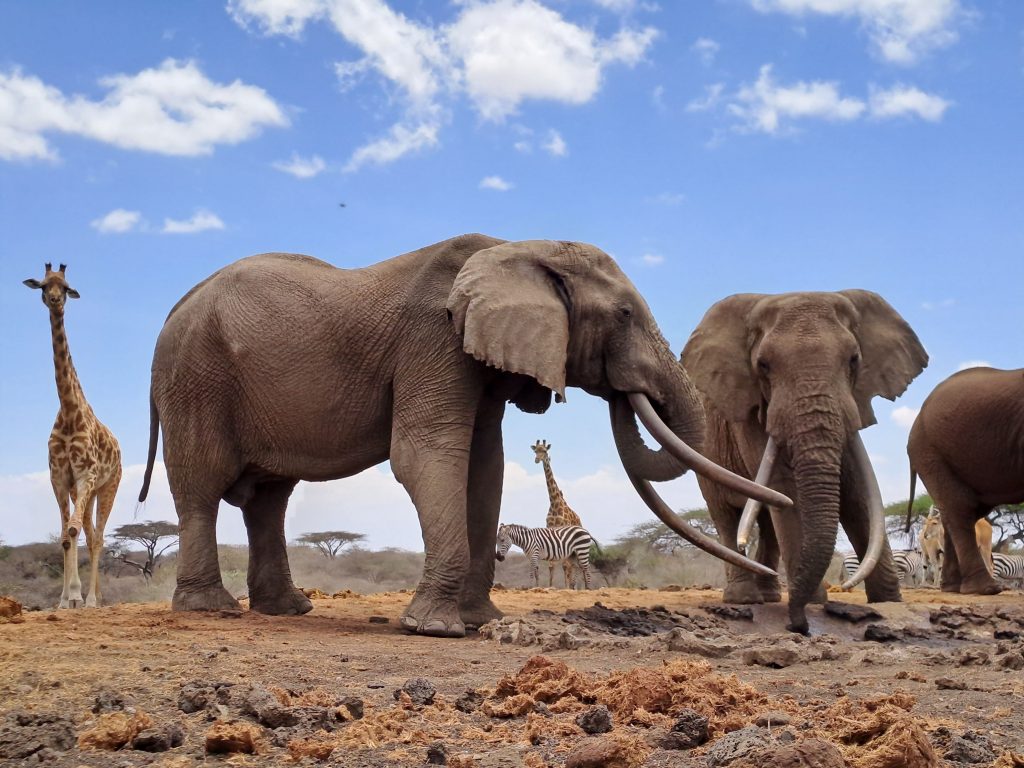 PRO. Safaris are not Slow Travel
Animal Welfare: Game Reserves offer animals a species-appropriate life on large areas in a familiar climate and are therefore far better than zoos. The animals are protected from poachers and other dangers of the modern world. Animal species are preserved and can reproduce in a protected manner, which is especially good for endangered species such as the giraffe. Animal density is also higher in protected areas. Unlike Nature Parks, the number of people in private game reserves is limited. This means fewer cars and people are present during animal sightings, creating quieter moments for both animals and people.
Sandra also says that most national parks and game reserves in Kenya are not fenced off at all. If an area is fenced off, it is often to protect the people who live in the area. The fact that people are so close to the animals is also an advantage, because without safaris, the animals do not generate any monetary value to justify their protection. In the "Zebra Hills", the animals are also hardly affected. Although it is the largest game reserve, there are only five cars. The Masai Mara National Reserve, on the other hand, is known for massively disturbing the animals.
Conservation: Safari terrain, be it a Nature Park or Game Reserve, is protected land that is preserved. This is positive for biodiversity. Since Game Reserves are partly man-made, plants are deliberately planted and new animals are introduced to the area, which expands the habitat. Some game reserves, such as Sandra's, even have conservation as their goal.
Knowledge and education: Safaris provide knowledge about wildlife in Africa. Some providers educate about poaching and problems of exotic souvenirs, such as ivory, crocodile leather or skins. This contributes to the awareness of the fragility of our ecosystem and the earth as a whole. Travelers learn: the earth is worth protecting.
Sandra says that it is also more impressive to experience the problems on the ground and not just hear about them in the media. For example, there was a bad drought in Kenya recently. Her Game Reserve paid for the meals of 8,500 children for five months. The tourists who were on site during that time got to see what it meant when animals died and people starved. Such an experience awakened and made the tourists reconnect with nature. Ideally, they would change their behavior to a more eco-sustainable when they got back home.
There are also Kids Camps for local children in the "Zebra Hills". These are important for educating the population, which usually only knows the animals in the context of danger, when elephants destroy fields or lions kill their cows or sheep. Some of these educational projects are free and others are for paying clients.
Sustainable for travelers: The lodge is usually located on the safari grounds and the travelers thus spend the night directly in nature. They learn a lot about the animals and nature of Africa by interacting with local guides. Instead of sightseeing modern buildings or listed ruins, nature is the focus of the trip. A safari is therefore very relaxing for the participants and the experiences resonate for a long time.
Local economy is strengthened: Safaris and the services that are part of game reserves create jobs for local people. They are an important source of income for private landowners and the population in remote areas. Sandra emphasizes that the ratio of women is also very good in game reserves. This is not limited to menial jobs. She knows many reserves that are run by women.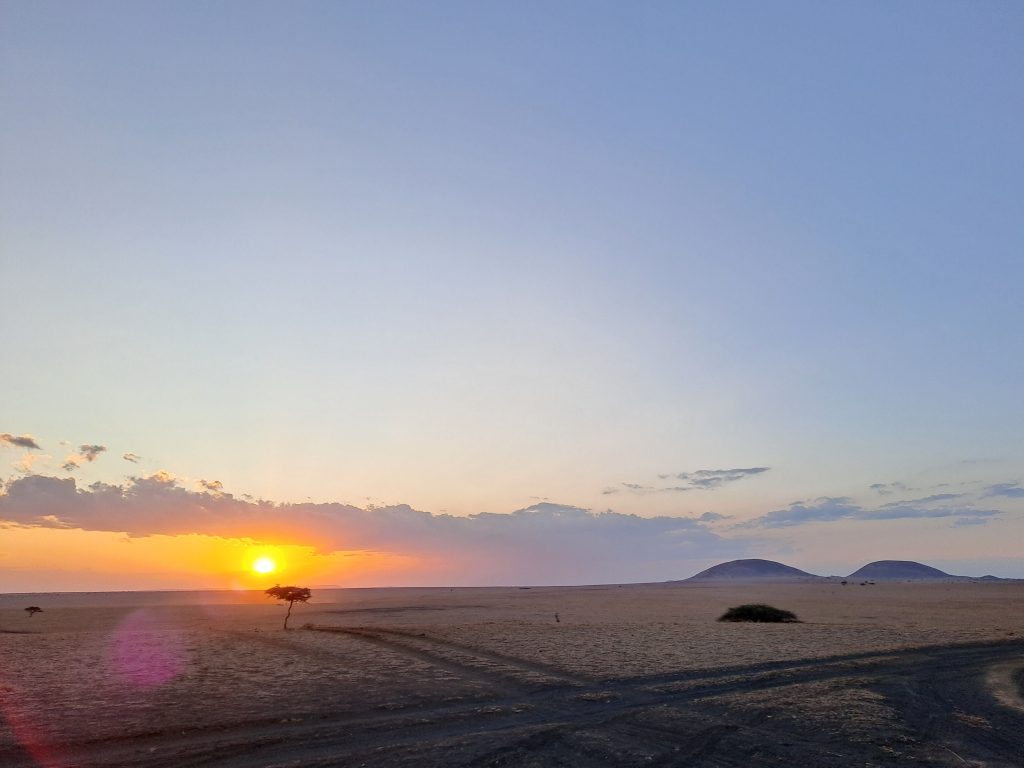 CON. Safaris are not Slow Travel
Environmentally damaging transportation: Typically, tourists take plane trips to reach the places for safaris, which generates high CO2 emissions. Not every game reserve is sustainable, either. For example, there are offers for guests to ride noisy motorcycles or quad bikes through the area. One travel stop is not enough either. Tourists often stay only a few days in a game reserve or nature park. Once they've seen the Big Five, it's off to the next destination on the must-see list.
Sandra also mentions that even tourists who are focused on safaris have a very environmentally unfriendly travel behavior. They often take small prop planes to fly from lodge to lodge – in many cases there are three to four places that are visited for the safaris. Many tourists make longer trips over certain areas or fly from Tanzania to Kenya for the next safari.
Animal husbandry questionable: Wild animals are kept in Game Reserve in a partially gated area, which is nothing more than a large cage. They become objects of exhibition and are disturbed in their natural environment, even if only by safari jeeps or the staff. In addition, the animals can become accustomed to humans and thus lose their natural instincts, such as no longer being afraid of them. There are also very negative examples here, like safari operators who allow contact with animals, such as petting baby lions. The animals are exploited, furthermore diseases can also be transmitted from humans to animals.
Sandra agrees with this point – the exploitation of young animals is bad. Often the animals are specially bred for the petting offers. But there are also providers who breed animals specifically for hunting, which is even sadder. Regarding the comparison with the cage, she says that the animals are only restricted if it is a closed game reserve and they cannot make their natural migration movements. For example, if there were too many elephants then, because they could not divide themselves, they would have to be shot in part to control the population. Otherwise, the animals would destroy the area. In Kenya, this is less of a problem. Here, the migration routes are open. Kruger National Park is known to have a problem with closed routes. In some areas, however, complete fencing is the only option for creating a nature reserve that provides space for wild animals.
Little knowledge transfer: In many national parks or game reserves there is a lack of well-founded knowledge transfer, such as brochures, object boards, exhibition rooms or even lectures. Tourists are often only interested in the experiences and jeep rides with animal sightings for the vacation photos. Perhaps there is also a focus on the Big Five, rather than all animals, which creates a preference for only a few species. Learning about unfamiliar species falls by the wayside here.
Here, as always, it would depend on the safari provider, Sandra says. In their Kids Camps, for example, there is a lot of teaching material, such as coloring and quiz books, and there are courses on how to make fire and hunt and identify insects.
Little contact with the local culture: Game Reserves are artificial places created for tourists. They are far removed from the culture and life of the locals. Local dishes are often found on menus at safari resorts, but they are far outnumbered by Western offerings such as burgers, pizza and pasta. Tourists like to eat familiar food. While there is contact with the locals, they are always just servants; they drive the jeep, clean the lodge or serve in the restaurant. Game reserve guests are usually wealthier and from abroad. Locals usually cannot afford safaris.
Sandra counters that she receives feedback to the contrary. At "Zebra Hills", she says, guests often come back because they have built relationships with the staff. This happens because the guides also like to have dinner with the guests and the staff generally talk a lot about the surrounding area and their country. This exchange was desired by the company, he said, because then the guests built up a bond with the place. From the locals, however, the interaction would mostly come from the heart.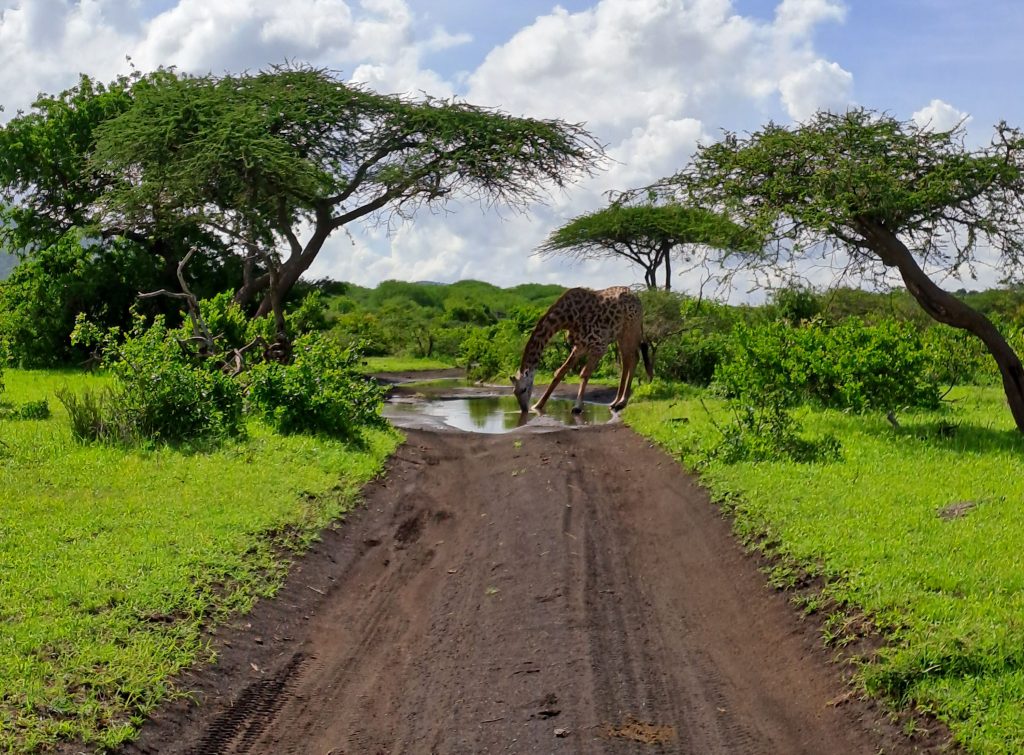 Conclusion
The exchange with Sandra shows that not everything about safaris is exploitative and harmful to the environment – especially such exemplary game reserves as the "Zebra Hills" do a lot for the population and the protection of animals and their natural environment.
Safaris can be Slow Travel if the following points are considered:
– Choose sustainable tour providers / safari lodges, without petting animals, quads, motorcycles and co. The providers should also point out to keep distance to the animals, to be quiet, not to use flash when taking pictures and not to disturb the animals.
– Don't fly to Africa just for a week-long safari. If possible, plan for a longer stay, e.g. through a professional stay, a long-term trip, a year abroad, a voluntary social year or similar.
– Offset the CO2 emissions of the flight by donating to an organization. Sandra's company works with two organizations that implement such donations in climate projects: the Redd+ Project and Wildlife Works.
– Stay longer in the place of the safari and use it as a place of recreation. Traveling around less emits less CO2. This is also more sustainable for the travelers as they get into a deeper exchange with the locals of the Game Reserve or Nature Park.
– Do not order imported fruits or vegetables or meat products at restaurants. Prefer local dishes, preferably with products that come from the region. According to Sandra, this is very possible in Kenya, since many lodges operate permaculture gardens and the food comes from their own production. Kenya now also produces a lot of its own cheese and grows exotic fruits, including berries.
– Donate to conservation when available so that the grounds and animals are preserved.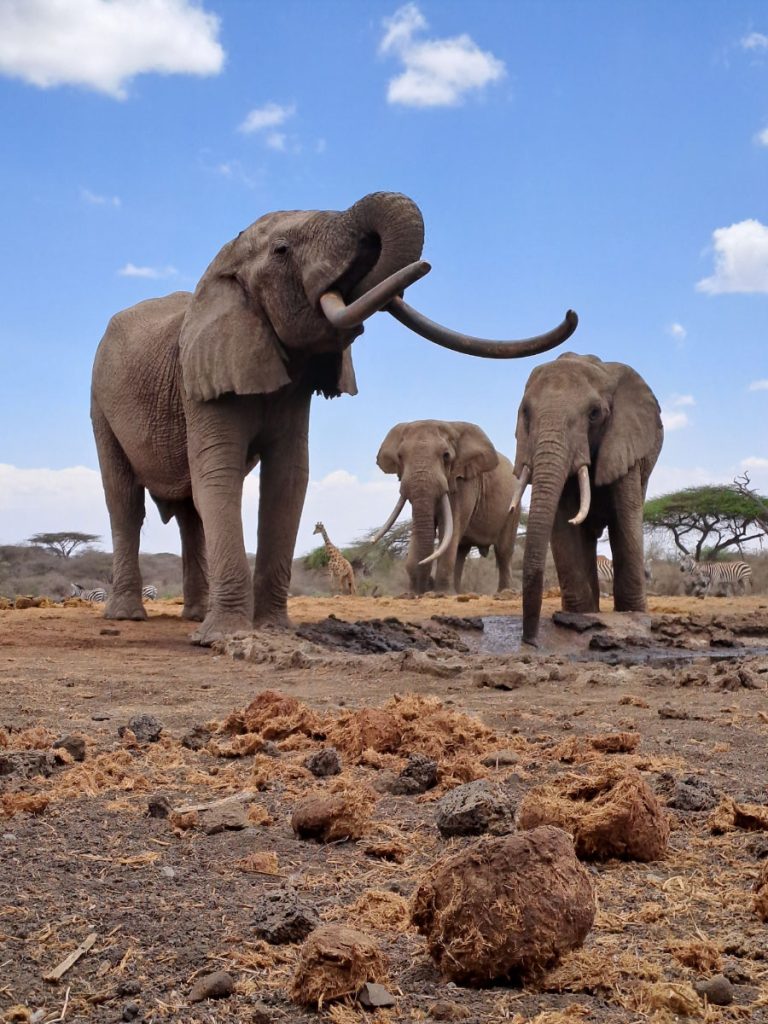 ---
[1] There are providers like atmosfair and myclimate, which are offering carbon compensations for your flights.
---
Article by Anika Neugart
---
If you enjoyed reading this article, you might also like …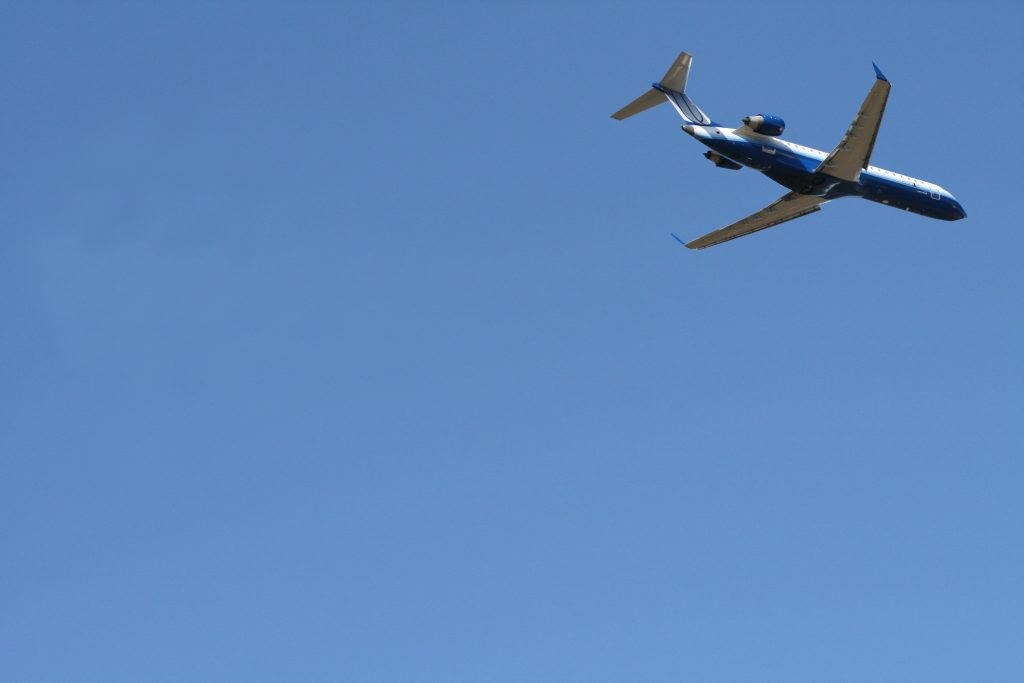 23 April 2021
Pro-Con. Is flying Slow Travel?
Flying to reach a holiday destination feels like a no-brainer for many Germans. But are flights as a means of travel an option for much longer? While facing climate change and destruction through mass tourism?