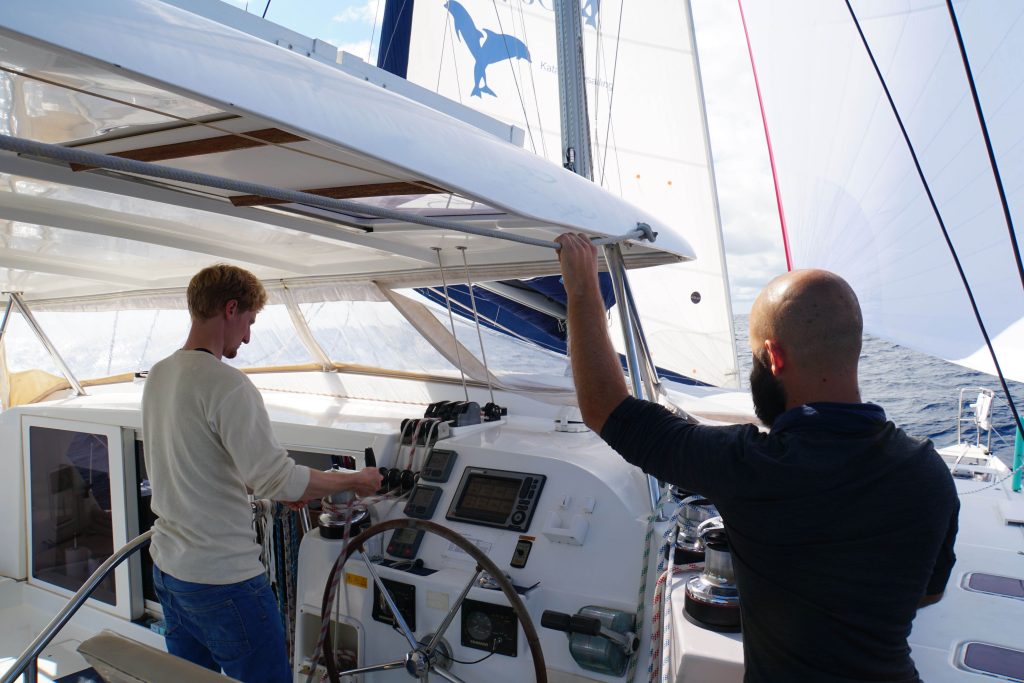 To sail once the Atlantic – from the Southern end of Europe to the Caribbean! This sounds like a wild dream that many people have in their minds but exceedingly few act the thought out in reality. The two student colleagues Niko and Nicklas actually dared it. The three-monthly sailing cruise was just a small part of their spectacular travel. Niko who reported about the adventure could surely fill a whole book with his elaborations.
Nicklas and he met during their studies in Freiburg, Southern Germany. At that time, Nicklas was working in a bike workshop and he inflamed Niko with his enthusiasm for biking. Their first common travel, which looking back seems like a test trial for what would follow later, let the two to Ireland. After they had taken the train from Northern France to Great Britain, they took the ferry to Ireland. For one month, they then cycled the green island.
In September 2018, a few years after their study time, their thirst for adventure aroused again and the two friends went on the road again for another common travel. This time, it was supposed to be longer, wider and less planed than their Ireland trip. The bicycle was again their main way of transportation. The two traveled from Kehl at the German-France border to Offenburg in Germany over the Taizé community to the city of Montpellier in Franceto Barcelona in Spain. After they took the ferry from there to Mallorca, the actual travel plan started: the goal was to travel by ship to South America without taking any flights. Ideally as crew members, whilst exchanging work to the sail cruise. The only thing left to do was to find a fitting lift. The months from November to January work very well to cross the Atlantic, since the trade winds act supporting. But as it so often is: "It's easier said than done.", like I heard from Niko.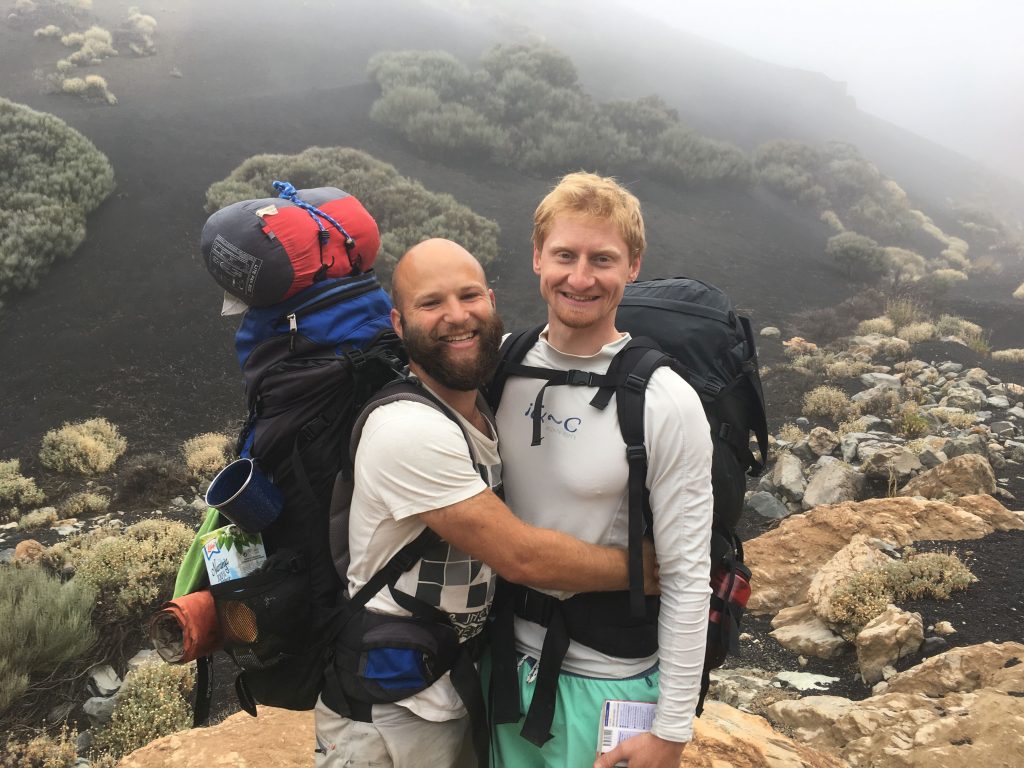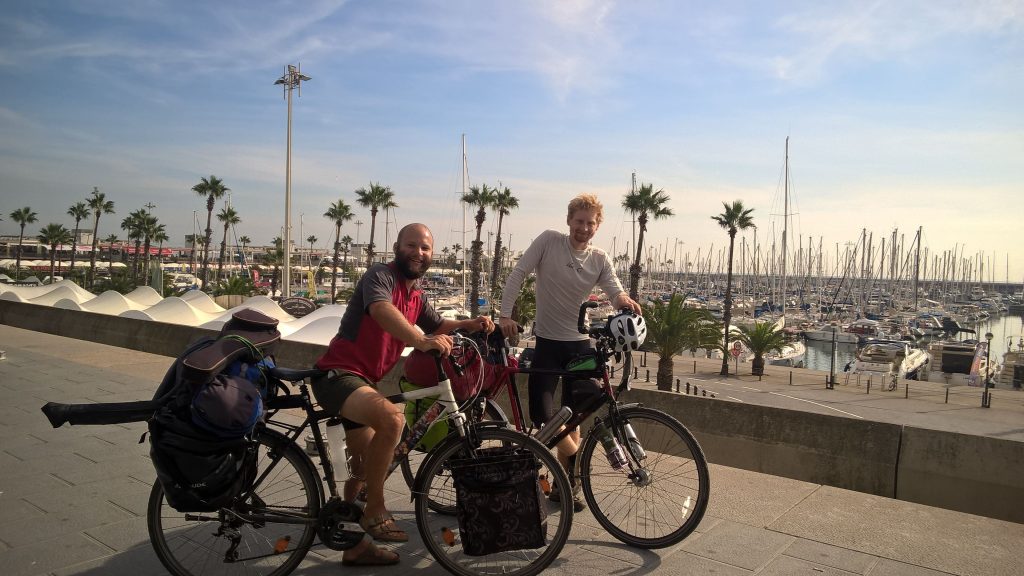 So, how did you find your boat in the end?
It was really hard to find a boat for the cruise. There are certainly a few website which are used by skippers to find crew members like e.g. handgegenkoje.de or findacrew.net. But at the time we were searching for a lift possibility, there was no suitable offer. We finally found our skipper just through a connection of the great cousin of Nicklas whom we visited on Mallorca. Manfred (name changed) was a German sailing instructor who wanted to cross the Atlantic with his catamaran and was looking for crew members. Several people are needed to watch over the radar 24 hours a day so, that in times of emergency, someone can react. Also, the cruise was not completely financeable through our work like it was originally intended. We paid 1,300 Euro per person what also covered the catering. At the other hand, people pay the same amount for all-inclusive holiday packages. I think, in comparison we were better off with our cruise.
How many and which people were on board?
In total we were five on the catamaran, all men. Interestingly, the others were noticeable older than us, between 45 and 65 years, whilst Nicklas and I were the youngest crew members with our 30 years. Besides our skipper Manfred, on board was a Swizz man and a German from the Ruhr area. With women on the ship, the cruise would have been certainly different. An amusing fun fact: single women are preferred on cruises like this. After them, couples and then, single men. Probably it's because men envisioning them having chances with the single ladies. With couples, the question about the availability of the woman is not coming up at all. With them, the up-side could be that a couple supports themselves emotionally. Meaning, when problems arise, the two persons take care of each other and are supplied in this sense. I think, if woman or man is not such a crucial factor. Far more important is the person who is going on board. How the person deals with problems and how mentally stable he*she is.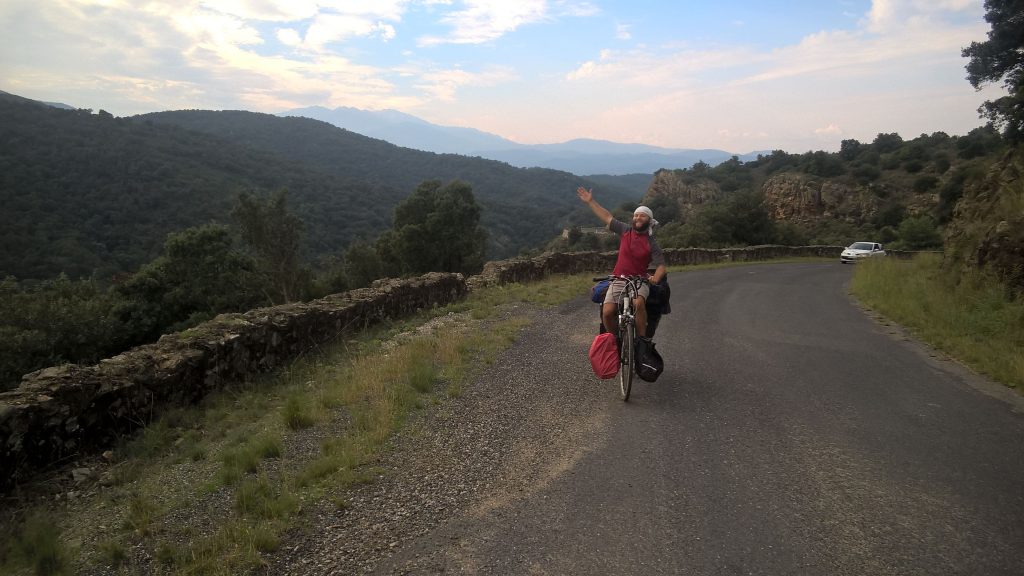 Which motivation brought the other men to the sailing cruise?
The three other men were in totally different places in their lives. Their motivation for the travel was also reflecting this. None of them wanted to reach the Caribbean to get to know the other culture or places or to travel further. It was merely personal reasons. They needed time for themselves, for example to make important life decisions. It had to do with their relationship, deep decisions about their family and the next steps in their lives. It was about stepping out of the daily routine and go into kind of an isolation, protected from the things that keep us generally busy in daily life, away from the usual influences. Ecological reasons did not play a role for them. But for my friend Nicklas this was one of the main reasons for the sailing cruise. Since a long time, he decided against flying and he avoids planes as good as he can. He would just take an airplane in emergencies or a sudden death of a relative. Our adventure thought resulted from his ecological mindset: How can we reach another continent without taking an airplane?
Did you get along well on the catamaran?
The mood on the cruise was good during our travel. But no permanent friendships were formed. In total, I would say a sailing crew is well functioning, if people are open to live in a small space and to make compromises. Also, they should be interested in other people and not isolate themselves from the group. Then, a cruise can be fun. But with the addition, what caused some tensions on our cruise were different political views. The opinion of our skipper Manfred about refugees and migration was very divergent to ours. He started sentences with: "I'm not a nazi but…". This already emerged before we started the cruise. Usually, I personally would avoid people like him. Nicklas and I discussed this issue before the trip, if we wanted to travel this close with a person who thinks so differently – and if we also wanted to be depended on him. We also talked to Manfred and expressed our position to the topic. We then commonly decided that we will avoid the topic. It didn't work one-hundred-percent because it was always in the air. Nevertheless, the contact was full of respect and we could communicate in a civilized manner. Additionally, another political view does not mean that everything is bad about the other person. Manfred had incredible qualities in certain areas like special knowledge about navigation by stars. He also passed this on and explained a lot which was very interesting and enriching for us.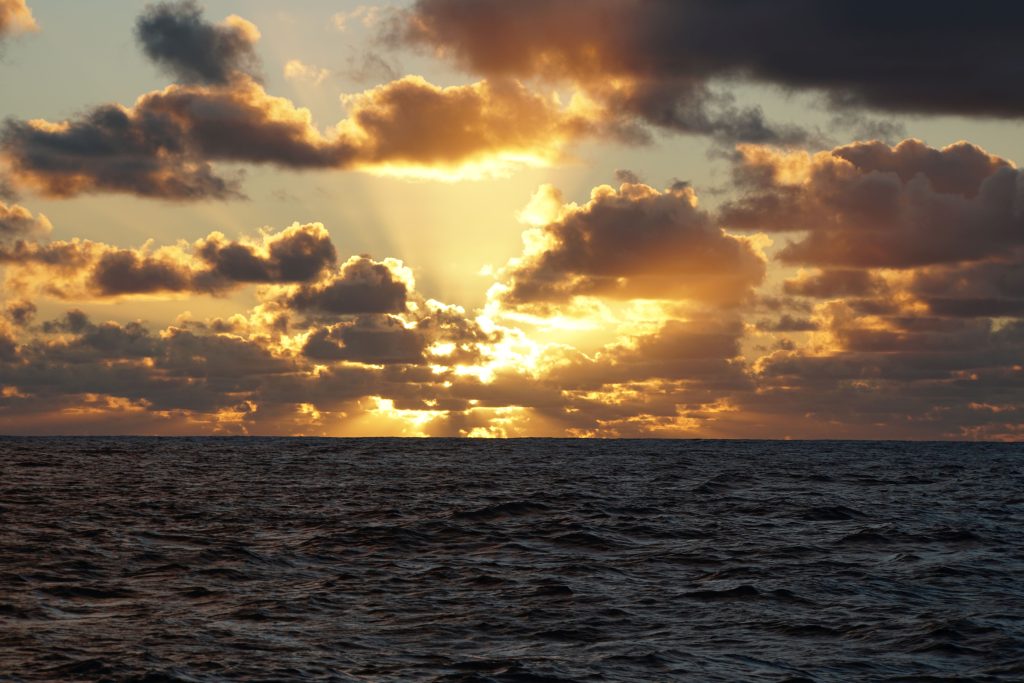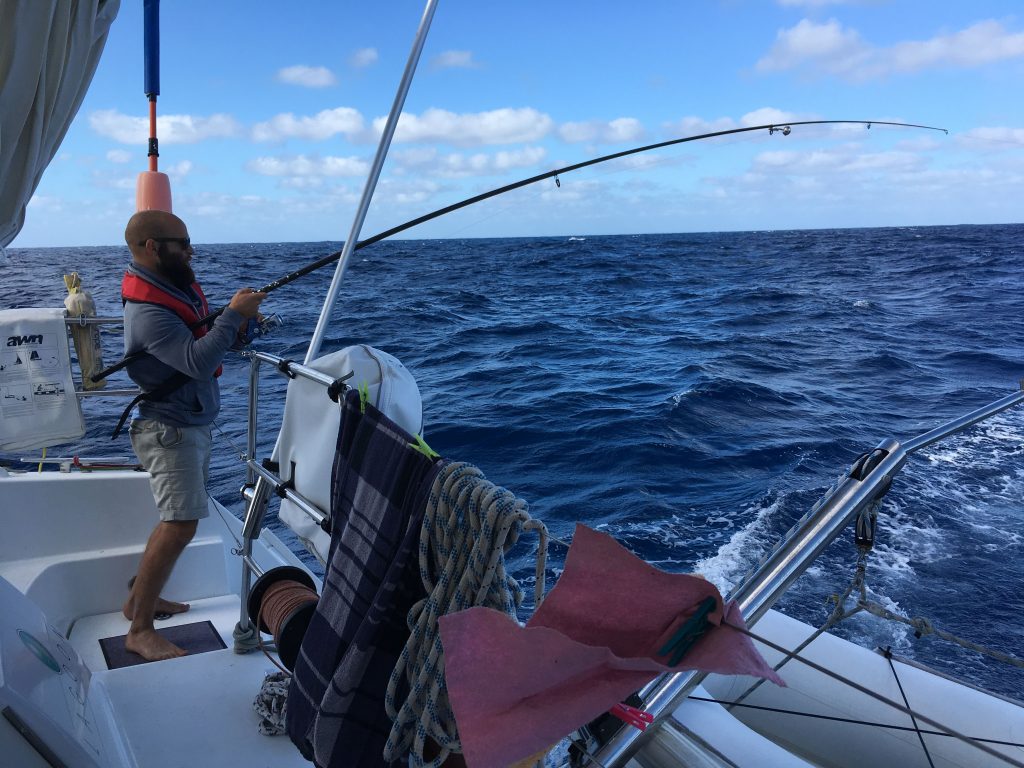 Which stations did you pass during the travel?
Since the cruise did not start from Mallorca but from Tenerife, there were very plenty of stations before the sailing even started. First, Nicklas and I sold our bikes on Mallorca. Then we took a ferry to Valencia, a train to Cadiz and another ferry to the Canarias. Already on the three-day cruise to Tenerife we met fun people who lived in caves on the beach there. They invited us to their place and we spend some days with them. We also climbed the volcano Teide and camped there in the wild. At this time, Manfred was already in port with his catamaran. Four days before the cruise, we already helped him to maintain the ship to prepare it for the long sailing travel. Especially, we had to buy lots of things because five people on the high seas for three weeks need plenty of food and drinks. We had a water purification plant with us, which changed salty water into sweet water. But bottled water was still needed. Then, at 18 November 2018, the cruise started. After three weeks we reached Saint Lucia, an island state in the Caribbean. Afterwards, we sailed around Martinique, which due to colonial history belongs to France. There, we disembarked.
How did you spend the time on the catamaran?
I had my ukulele and harmonica with me, which is why I spend lots of time with music on board. Nicklas did many stretch and fitness workouts. We also played cards pretty often. Before the trip, we did not think about what the travel could do to our friendship. Until then, we still knew us eight years. The others told us they would have not gone on board with their best buddy because friendships often break during cruises. However, ours lasted. In other respects, we were working in a non-stop layer system. Every six hours one had a two hours shift. This means, in 24 hours one had three shifts because the sailing direction has to be kept even during night. Besides the direction we also had to look out: at one hand, for large ships, at the other, for lost containers. These are not noticed by the radar and can lead after a collision to serious damage on the boat. They are normally just hovering slightly below the water surface, since they hold air due to their good sealing. The boat goes for 24 hours each day around 14 km/h in the aimed direction. At one point, the comparison to the bicycle appeared to me because by bike you would be going the same pace. We basically crossed the Atlantic with bike speed.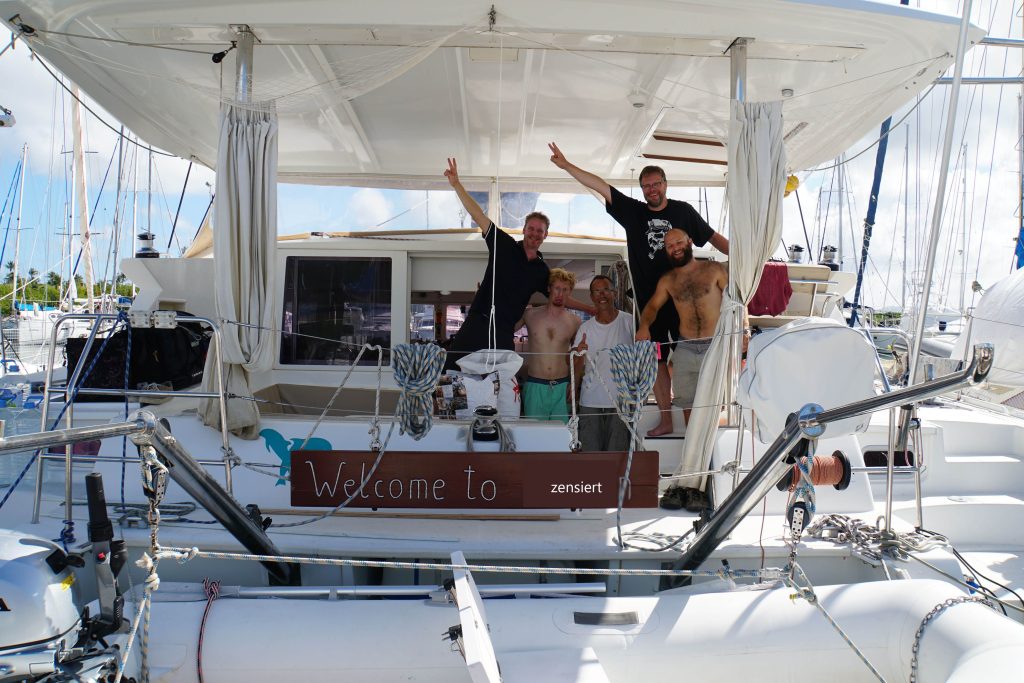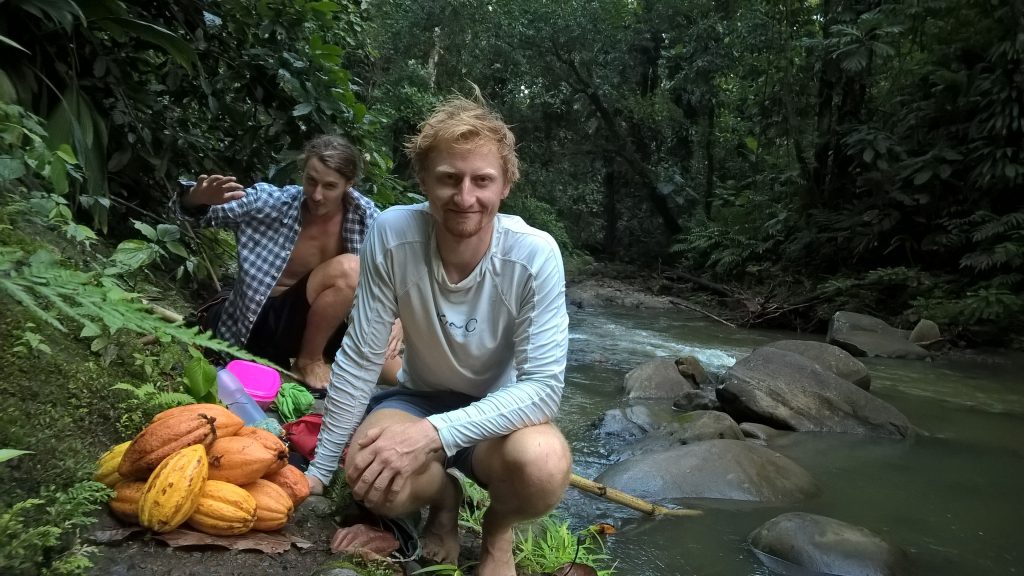 What did you like the most about the cruise?
The extremes were fascinating: at the one hand, the beauty of the ocean like the marine life. For example, there were flying fish at night that landed on deck because they were attracted to the light. We also saw dolphins every now and then and whales which dived underneath the boat. This was a wonderful experience to be so close to nature and also, to feel the endless wide of the sea. The nights were very special, too: deep darkness with clear starry sky and calm sea. Such a place you'll never forget. In contrast, there were the storms, which tossed us from one end of the bed to the other. I did not even wake up during one very heavy storm because I was so exhausted from the shift system. I just slept through. Nicklas told me later, it was a miracle that I did not fell from the bunk.
Where did you go from Martinique after the cruise next?
From Martinique we took a ferry to Guadeloupe. On this island we spent one whole month because randomly a friend of us spent his Erasmus study time there. He lived there with four other students in a house where we could also stay. We just enjoyed the time there. We went fishing a lot, played an excessive amount of volleyball, but also worked in a hostel as volunteers (organized by the platform Workaway). We also spent Christmas and New Year on Guadeloupe. The biggest adventure was a hike around the island. Only one side of the tropical island is inhabited, the other is a wild national park. The most dangerous animal is the poisonous centipede. Despite the very few dangerous animals, we underestimated the activity: we had expected way more human population and with it access to food and fresh water. At one point, our build up stocks went out and we had to become inventive. For example, we stole plantains from the fields and caught fish and grasshoppers. With these ingredients we could create incredibly good meals. Such stories sound all fun and adventurous later, but in the moment, they are also hard. Also, the mosquitos get pretty bad, the more tropical and remote a place is. Honestly, the mosquitos were the worst. Besides this, we had beautiful experiences on the island. The animals and vegetation were totally interesting and divergent. Everywhere we found nice waterfalls and we also snorkeled a lot.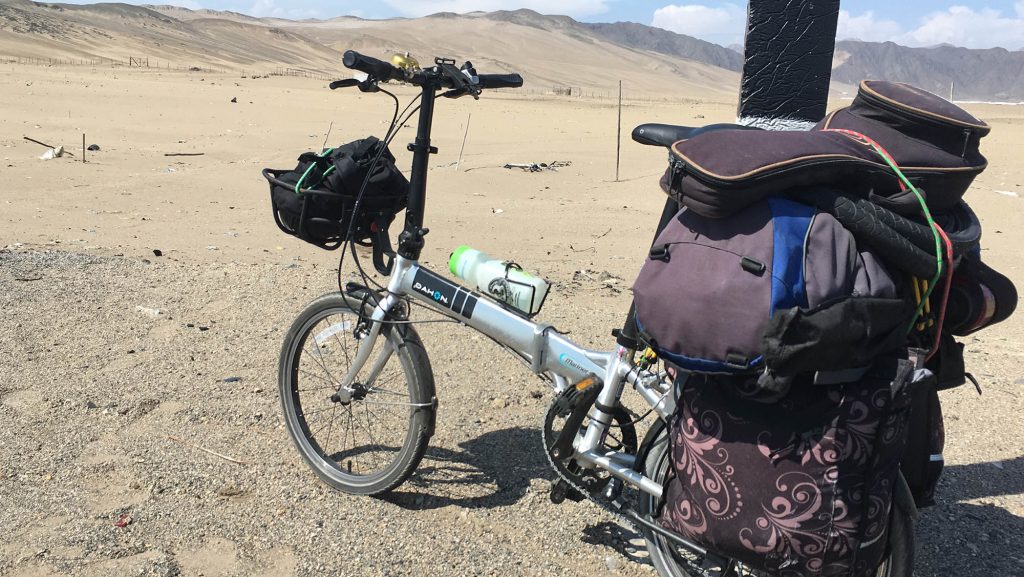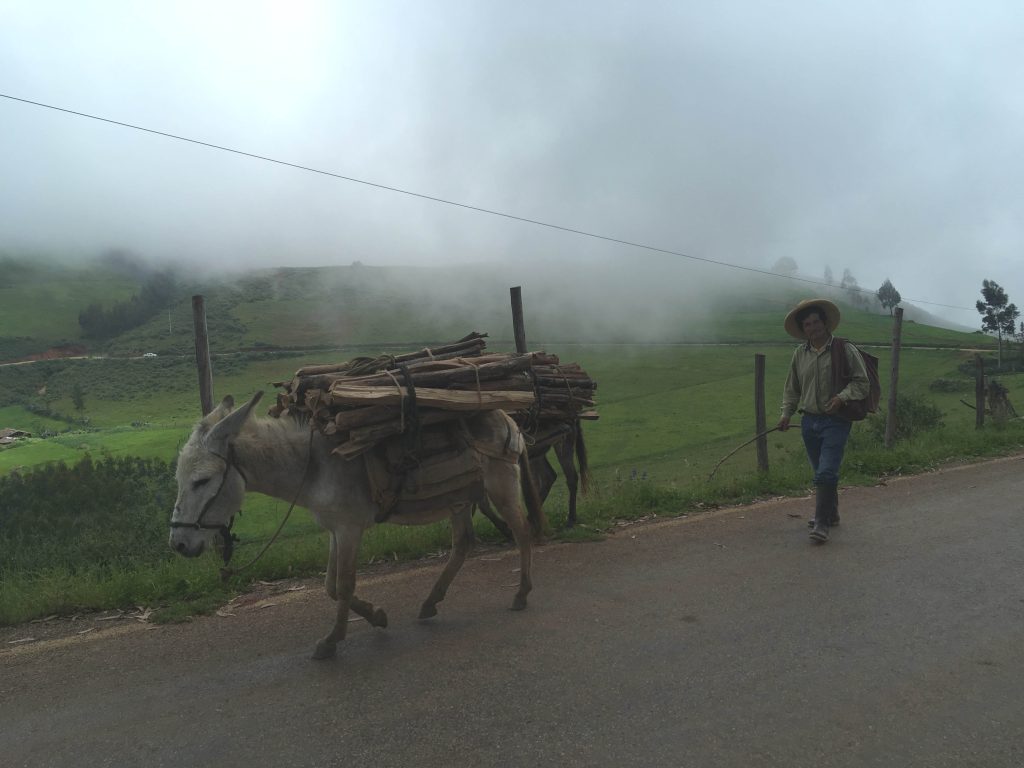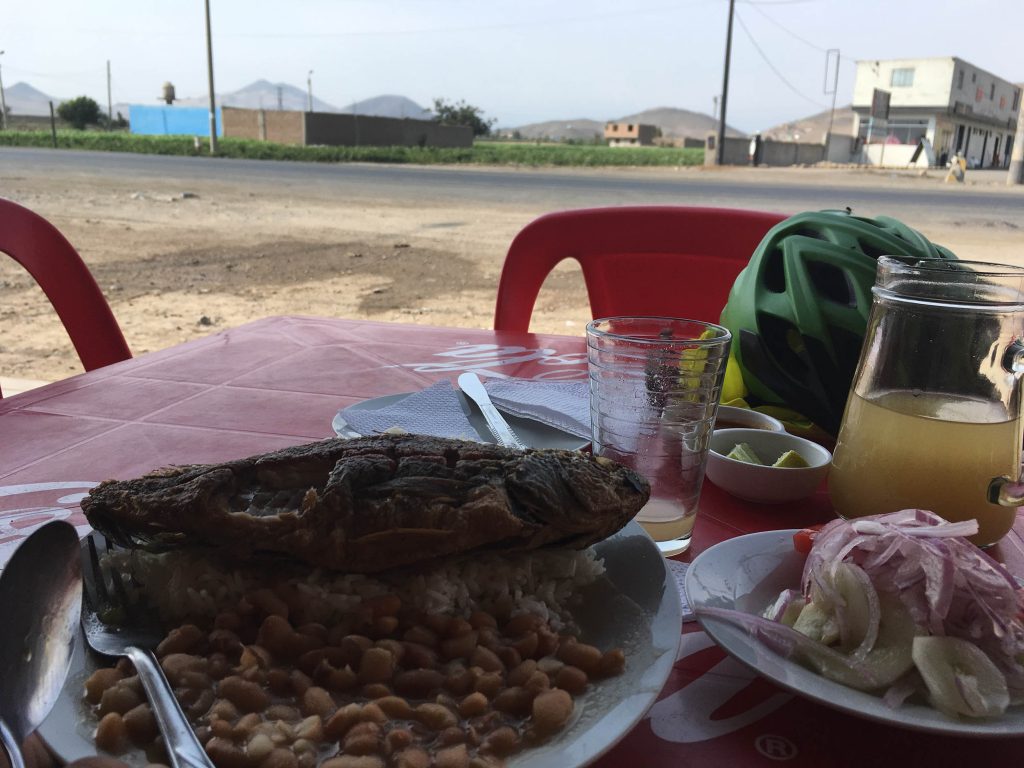 Which station came after the long island stay?
After Guadeloupe, Nicklas and I separated. He booked himself a ride with a container vessel and traveled back to Rotterdam in the Netherlands. So, he came back to Europe in the beginning of February. He sticked to his credo of not flying – but also to its price. A flight would have cost around 350 Euro. Nicklas, at the other hand, was on his travel with the ship for six weeks and he paid for the cruise including all-inclusive catering 1,800 Euro. Crazy difference. Regarding this matter, I also got a good tip: In winter, there are plenty of cruise ships traveling the Caribbean. In spring, they are all going back to Europe and offer cheap rooms including catering for around 600 Euro for the whole journey. The cruise ship passengers are usually traveling the route back by airplane, since the ocean crossing is unattractive to them. After the fare-well from Nicklas, I myself was traveling for four month trough by bike through South America – from Lima in Peru to Medellín in Columbia. Only after that, I went back to Germany, sadly by plain because there was no other way of travel at this time.
How was it like to come back to Germany?
When I came back home in July 2019, my wanderlust was satisfied and I was in the mood to "trop my bag". Surprisingly, I got pretty fast back into work mode. Because I needed money, I organized myself a job and moved into my brothers' flat in Freiburg. I did not take time to reflect but I was well off in this way.
Did you learn something by traveling?
Before the sailing cruise, Nicklas and I already tried to prepare in advance. For example, we learned Spanish even when we were still traveling France by bicycle. Additionally, we completed a sailing course including the sailing license for inland waters at the Lake Konstanz in Southern Germany – with lots of theory and three-point navigation. The course did not really help us for the actual cruise but was still beautiful because we developed a sense for sailing. I would say, after two days on the high seas, you have learned these basics already. In the best case, you got a good skipper with you like we did who teaches you the basics. Interestingly, you don't need a sailing license to cross the Atlantic. You basically just got to buy or rent a boat, put it into the sea and start going with just the aim: "I will travel to Martinique."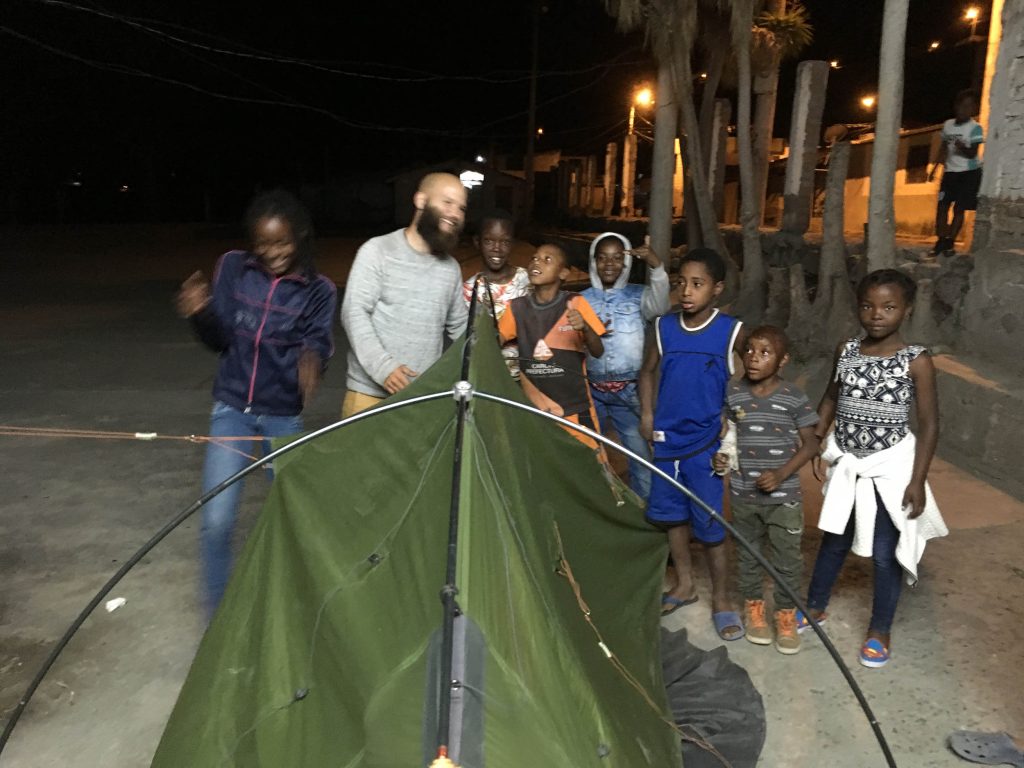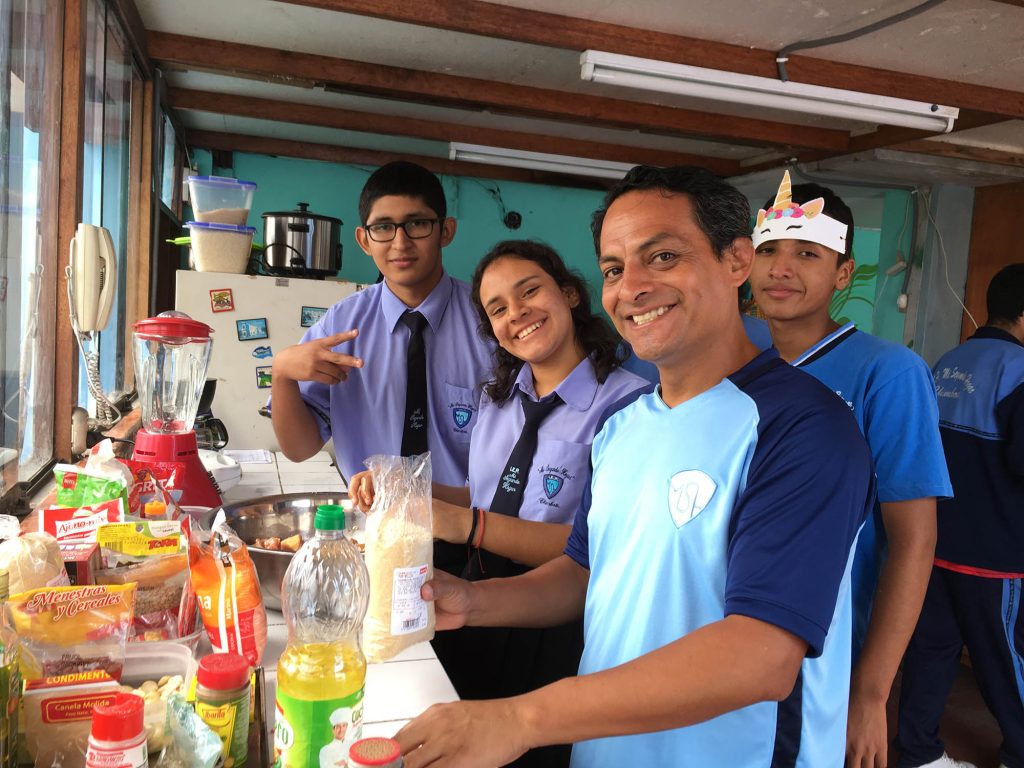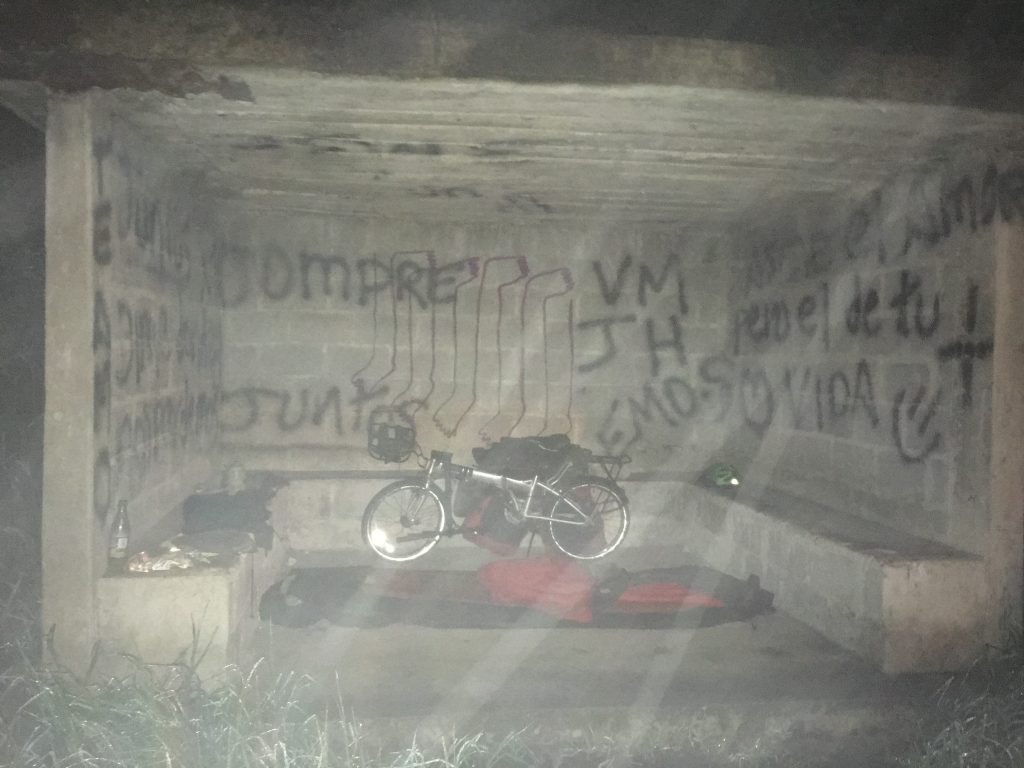 ---
Interview by Anika Neugart.